David Thurston, September 5, 2010,
A sample Study from Central Sydney Presbyterian to see the layout etc.
Jesus calls his followers to have as their passion in life the kingdom of God. This is a passion that helps them to understand how to shape the focus of their life in every area of their life.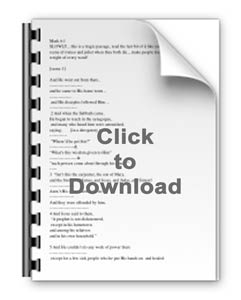 | Earlier: | Same day: | Later: |
| --- | --- | --- |
| « John 5-11 Studies | Good Friday Mark 15, Funeral Talk - How deep the Fathers Love, Funeral - how great thou art, Sermon on the Mount Study, Two Ways to Live, Playing to an Audience of One, Mark 1-8 Study Booklet, Romans 12-16, Connect - Acts, Ephesians Studies from Central, John 10-21 Studies | Evangelism: A movement in 3 stories » |