David Thurston, September 5, 2010,
A sample Study from Central Sydney Presbyterian to see the layout etc.
We are called as God's people to live for God's approval above all else— when we want the approval of man we quickly go off the rails. We are playing to an audience of one.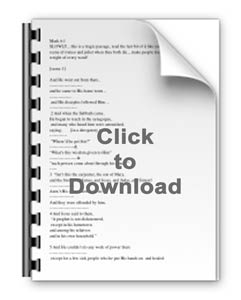 | Earlier: | Same day: | Later: |
| --- | --- | --- |
| « John 5-11 Studies | Good Friday Mark 15, Funeral Talk - How deep the Fathers Love, Funeral - how great thou art, Sermon on the Mount Study, Two Ways to Live, Wanting what Matters, Mark 1-8 Study Booklet, Romans 12-16, Connect - Acts, Ephesians Studies from Central, John 10-21 Studies | Evangelism: A movement in 3 stories » |