Wayne Connor, February 11, 2011,
A FileMaker pro database containing 130 church songs that you can search by topic, difficulty, feel, lyric and so on.
It's not complete - it needs more songs added- but it might be a good starting point for you to make your own database of songs that you use at your church.
The view you should go to is 'sheet music main'.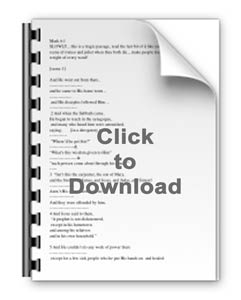 | Earlier: | Same day: | Later: |
| --- | --- | --- |
| « Preaching prep Template | FIlemaker Pro Directory Template, Ephesians 1-4 - Leader's version, Know Jesus Know Life, Parting Gifts - John 10-21, Christmas Meditations, The life and death of King Jesus, The life and death of King Jesus, The shape of our life together, One Samuel 15, One Samuel 18 study, One Samuel 4-7 growth group study, One Samuel eight growth group study, One Samuel nine growth group study, Isaiah 1-39 Growth group studies, Matthew 1-10 studies, Bible studies Luke 1-6, Book summary: Christ centred preaching, Christianity explained, Christmas invitation, Invitation to God classes - Ballina Presbyterian Church, Sample music roster from Ballina Presbyterian church, Easter talk based around giving blood, Wedding - Christian 1 John 4 , Songs used at Bangalow Presbyterian Church, Sample Keynote file, Leading church checklist, Sample bulletin from Bangalow Presbyterian Church, Unclaimed prizes Christmas talk, Funeral based on one Thessalonians 4 | Exodus 1-20 Studies » |